Suction Collator | DSC-10/20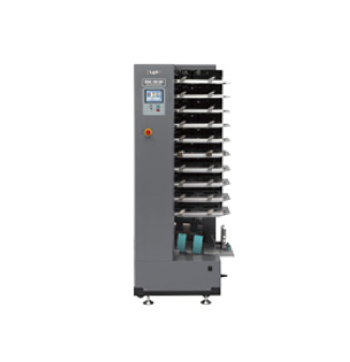 The DSC-10/20 is a high performance suction feed vertical collator, ideal for the demands of the short run, fast turnaround print market. The high speed DSC-10/20 features deep capacity bins for high production and an optical straight/offset stacker for collating sets.
| The number of bins | Units connectable | Process Speed |
| --- | --- | --- |
| 10 bins/tower | 2 towers | 7,200sets/h |
Model/Type
Suction Collator DSC-10/20
Machine type
Floor type vertical suction collator
The number of bins to be collated
10 bins/unit
Maximum number of units connectable
Up to 2 units
Feeding system
Belt suction feed system
Covenyance system
Roller belt convenyance system
Maximum paper loading volume
35 mm in height
Paper size
Min.139.7(W)×210(L)mm
Max.320(W)×450(L)mm
Paper quality
Fine qulaity, Art/coated
Paper weight
Fine quality paper
 52 to 157 gsm
Art/Coated paper
 79 to 157 gsm
※ Several restrictions are applied to paper exceeding 157to 250 gsm for fine quality paper and 157 to 210 gsm for art/coated paper
Paper type
Sheet
Processing speed
7,200 sets/h
Additional functions
Check mode(separation air, pick-up air), Alternate mode, Block mode(1/2, 1/4), Interleaf insert mode, Paper eject direction (left/right), Waiting mode, Manual paper feed(when using LUL-HM), Reject function(when using LUL-HM)
Power supply
AC 120 V 60 Hz, AC 220 to 240 V 50/60 Hz
Power consumption
8.1A - 4.2A
Dimensions
770(W)× 780(D)× 1,708(H)mm
Weight
227.5kg
Duplo has a policy of continuous improvement and reserves the right to amend the specifications without prior notice.
Other related equipment
COLLATORS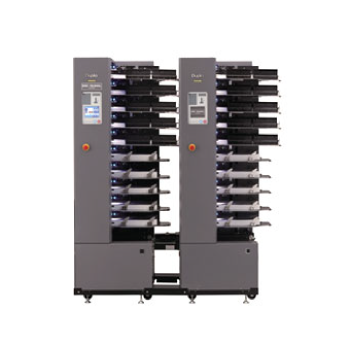 | The number of bins | Units connectable | Process Speed |
| --- | --- | --- |
| 10 bins/tower | 6 towers | 10,000sets/h |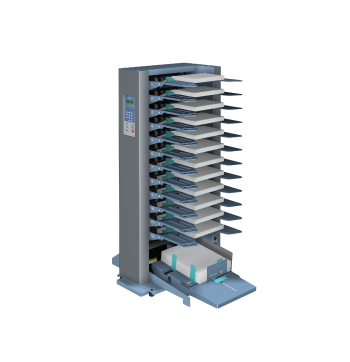 | The number of bins | Process Speed |
| --- | --- |
| 12 bins/tower | 4,200sets/h |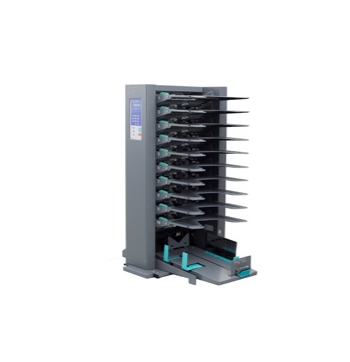 | The number of bins | Process Speed |
| --- | --- |
| 10 bins/tower | 7,200sets/h |
SHEET FEEDERS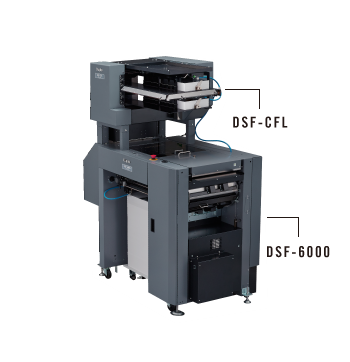 | Paper size | Paper loading volume | Process Speed |
| --- | --- | --- |
| B6~A3SR | 610mm | 600sheets/min |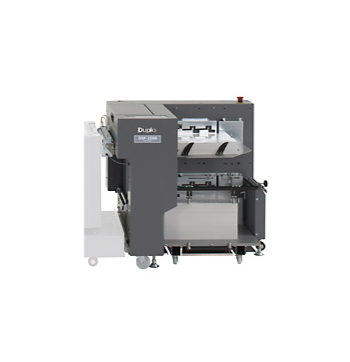 Paper size
Paper loading volume
Process Speed
A5~A3SR
Upper tray:65mm
Lower tray:200mm
200sheets/min
SQUARE SPINE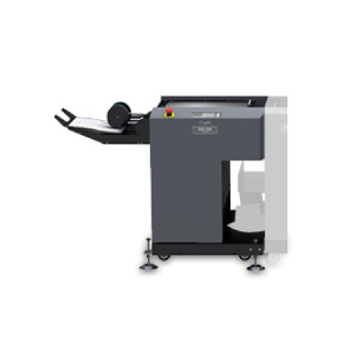 | Book size | Process Speed |
| --- | --- |
| A5~A3SR | 2,600books/h |
STAPLE PUNCH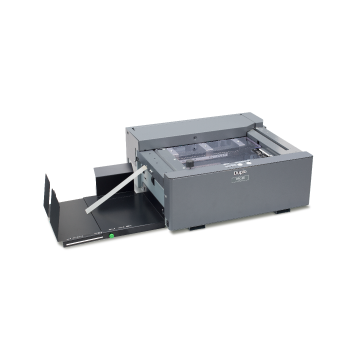 | Paper Size | Punch capacity |
| --- | --- |
| A5~B4 | 24sheets |