FILE SETTER | DFC-SⅡ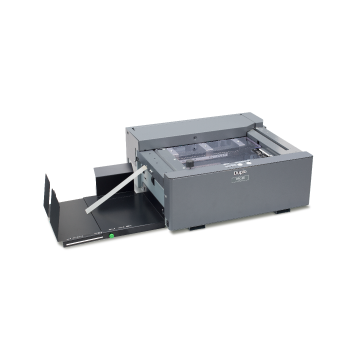 DFC-SⅡ is the industry's first stapler module for both "Traditional Staple Binding" and unique "Punch Hole Bind(PHB)" by changing staple head. PHB eliminates the need for metal staples and combines hole punch and staple. The safe, economical, and environment friendly stapler module with DFC collator is thought to be best for schools, office, and in-plants.
| Paper Size | Punch capacity |
| --- | --- |
| A5~B4 | 24sheets |
Model/Type
File Setter DFC-SⅡ
Machine type
Desktop stapler and file setter
Paper type
Fine quality paper, Middle quality paper
Paper size
Width
 182 to 257 mm
Length
 140 to 364 mm
Paper Weight
52.3 ~ 127.9 gsm
Staple Capacity
Stapling
 Max. 25 sheets(81.4gsm)and within 2.5mm.(Connecting collator DFC-101/120: Max. 12 sheets)
Punch Hole Binding
 Max. 10 sheets (64 or 81.4 gsm)
Process
Stapling/Punch Hole Binding (Corner, Counter Corner, Side)
Detect Function
No-staple, Paper-Jam, Door-Open, Tray-Full, Trouble, Mis-alignment sets, Kits connection
Process Speed
Stapling
 25, 35, 40 sets/min
 *Process speed of Stapling for over A4 paper is 25 or 35 sets /min.
Punch Hole Binding
 35 sets/min
 *Process speed of PHB for over A4 paper is 25 sets /min.
Exit Tray Capacity
70 to 75mm
* When the PHB KIT R /PHB KIT L is used, the maximum capacity may be 30 mm or less.
Pitch
Stapling
 148.5mm fixed (Ratio 1:2:1 against 297mm A4 paper)
Punch Hole Binding
 80mm fixed
Staples
5,000 staples/cartridge (Only Stapler kit R/L)
Power Supply
100 – 240V 50/60Hz
Power Consumption
0.5A, 42W
Dimensions
In use
 937(W)×508(D)×250(H)mm
Folded
 784(W)×508(D)×250(H)mm
Weight
Including Stapler kit R, L
 31.5 kg
Including PHB kit R, L
 32.5kg
Duplo has a policy of continuous improvement and reserves the right to amend the specifications without prior notice.
Other related equipment
SHEET FEEDERS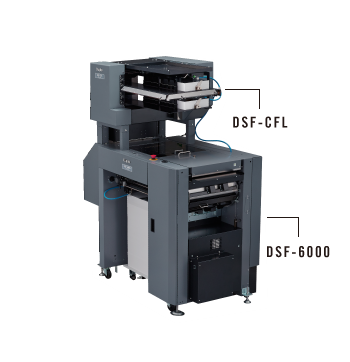 | Paper size | Paper loading volume | Process Speed |
| --- | --- | --- |
| B6~A3SR | 610mm | 600sheets/min |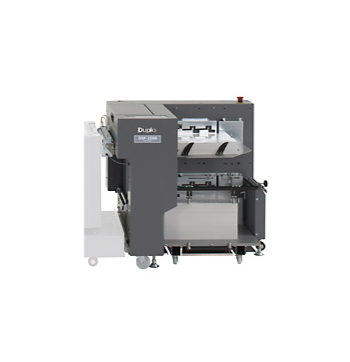 Paper size
Paper loading volume
Process Speed
A5~A3SR
Upper tray:65mm
Lower tray:200mm
200sheets/min
SQUARE SPINE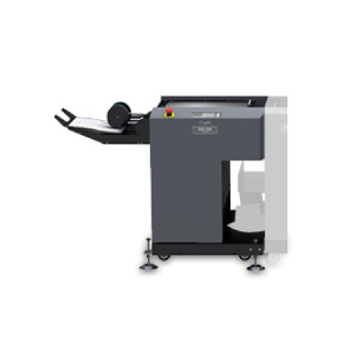 | Book size | Process Speed |
| --- | --- |
| A5~A3SR | 2,600books/h |